The 2022 Baker Doubles Tournament will take place on Sunday October 23, 2022.
Check in begins at 10am with bowling set to start at 11am. The field is limited to 63 teams so get your entry and entry fee in ASAP. All teams will bowl 8 games of Baker qualifying with 1 in 6 teams cashing and advancing to the round robin match play. Pins from qualifying carry over to match play. All match play will be one game matches. The winning team will receive 30 bonus pins while teams will each get 15 bonus pins for a tie game. Total wood at the end of match play will determine final position standings. Entry fee is $200 per team. First place is guaranteed at least $2200 and low to cash will be at least $400.
There will be brackets and side pots available. Lane pattern for this year will be the Kegel Krypton.
For more information or to enter please contact Doug Bohannon at Kingpin's Alley. We accept cash, credit card, PayPal and Facebook pay.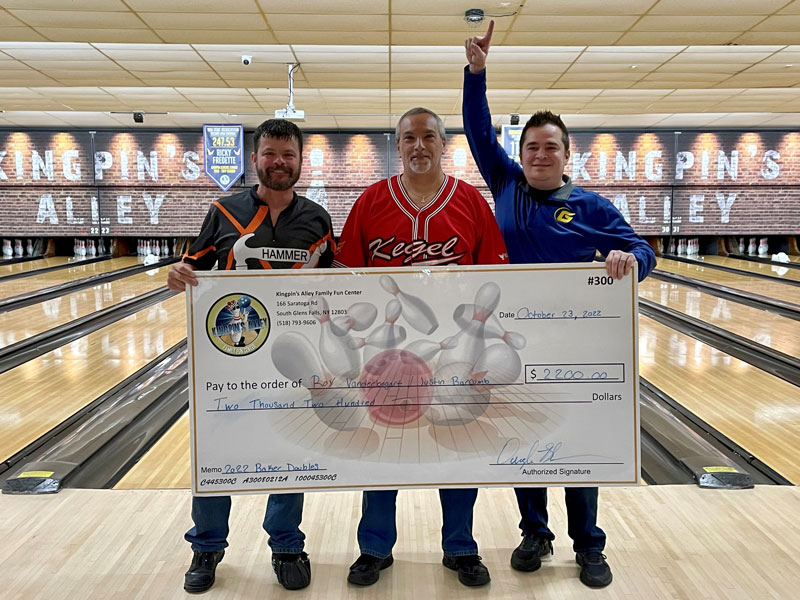 Roy Vanderbogart(L) and Justin Barcomb (R) are presented their ceremonial winner's check from KPA proprietor, Doug Bohannon. Vanderbogart & Barcomb qualified second and then moved up in match play to take home the $2200 top prize.