2022 New Year's Day Tournament
The 8th Annual Kingpin's Alley New Year's Day Tournament took place on Saturday, January 1, 2022.  This year's event drew a field of 74 bowlers who bowled 6 games, moving pairs after each game.  
This year's field featured three previous champions, Craig Schoonmaker, Steve Wagoner and three time defending champ, Brian LeClair.
The tournament pattern was a tough one this year.  40' long and a 2.6:1 ratio made this a shot maker's pattern that required solid execution.  Of the 74 bowlers in the field only 21 ended on the plus side. 
Jon Wilbur made his first appearance in this event and he made the best of it as he came away with an 89 pin victory to claim the coveted champion's trophy and a $2000 payday.  Jon had only one game below 200 on the day (his last) as he paced the field with a 230.83 average, 1,385 pins total.
Jake Rivers was second having posted a 1296 total (216.00 average).  That was good for $1200.
Three time defending champ, Brian LeClair came out of the gate firing with a 276 game but he ended in 10th place with a score of 1,254.
Steve Wagoner, the 2017 champion finished in the money with a score of 1,249.
2016 Champ, Craig Schoonmaker finished in 16th with a score of 1,229.
The top 12 bowlers cashed.  
 John Wilbur     1385   

$2000

Jake Rivers     1296 

$1200

Connor LeClair     1295 

$600

John Ferraro     1286  

$325

Zack Bogholtz     1286

$325

Anthony Scaccia     1286

$320

Billy McGaffin

1274

$290

Brian Mariano

1266

$270

Garrett Wolf

1262

$250

Brian LeClair

1254

$240

Steve Wagoner

1249

$225

Ed Bauman

1243

$215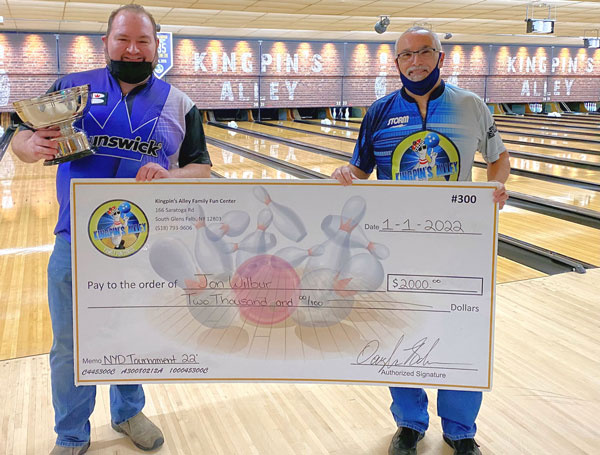 2022 New Year's Day champion Jon Wilbur (L) is presented his championship trophy and a check for $2000 by KPA Proprietor Doug Bohannon.